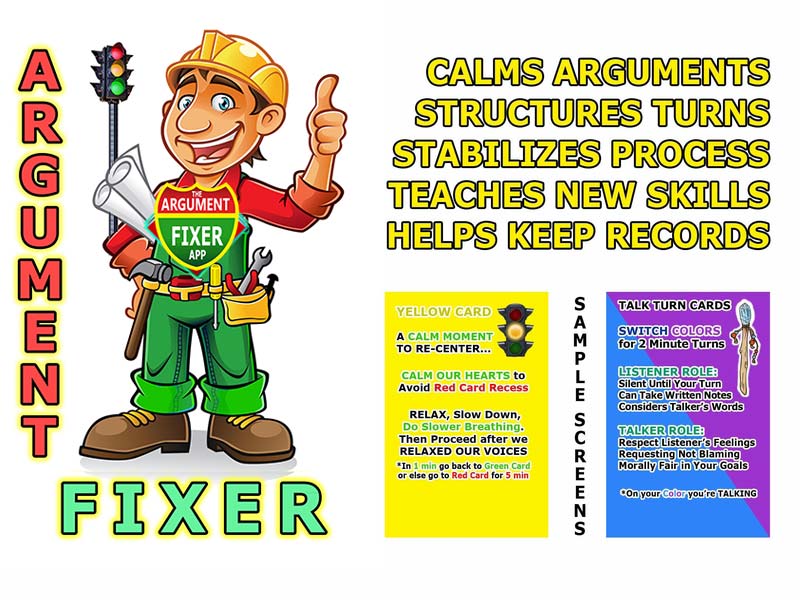 Download this App:
Argument Fixer PRO - Android - link is here at Google Play Store
Argument Fixer Pro - iOS - coming in September for iPhone at the Apple Store
Argument Fixer is an app designed to help keep disagreements from becoming destructive arguments. Disagreements don't have to be competitions about who wins and who loses. Disagreements are better considered to be opportunities for both parties to explore frustrations, collaborate for restructuring and then reforge better agreements for the future.
Feelings of panic and stress build up during disagreements, overwhelming the rational mind which seeks to resolve the original problem wisely. People's survival fears can lead them to be consumed in battle! Without an effective method of Emotional Management, the discussion becomes emotionally sabotaged - and effective problem-solving becomes impossible.
Argument Fixer's tools offer a multi-level structure to keep disagreements productive. Its main feature, the "Fixer Cards" can be activated at the beginning of a disagreement, so both participants' emotional states can be monitored and dealt with, before angry arguments can overwhelm them. Other features include various eye-opening educational concepts about communication. Consider using modern technology to help your disagreements remain stable.
Download and install our feature-rich app called Argument Fixer Pro.
email: Info @ ArgumentFixer.com
As a gift for visiting our site, you can download our free guide to using Friendly Strength.
Our Recommended Reading List:
Click on green button or on title of each book for ordering info...
"The Four Agreements"
by don Miguel Ruiz

This bestselling book insightfully discusses four very powerful and memorable concepts for a successful personal life. The Four Agreements are: "Be impeccable with your word. Don't take anything personally. Don't make assumptions. Always do your best." Staying true to these core concepts will rapidly transform your life to a new experience of freedom, true happiness, and peace.

"Nonviolent Communication
A Language of Life"
by Marshall B. Rosenberg, PhD

As many of us grew up, we learned "Violent Communication" - trying to make the other feel guilty or intimidated. Start applying concepts like: observing without judging, communicating your needs and feelings openly and honestly, requesting instead of demanding behaviors to add joy to your life, and not taking ownership of other people's feelings or responses to you, etc. You will notice an improvement in how people in your life respond to you and your requests. Disagreements can be solved more easily and with greater respect, once you read this incredible book!

"12 Rules for Life"
by Jordan B. Peterson

What are the basic facts of life that everyone in the modern world needs to know? Renowned psychologist Jordan B. Peterson's answer to this most difficult of questions uniquely combines the hard-won truths of ancient tradition with the stunning revelations of cutting-edge scientific research.

Humorous, surprising and informative, Dr. Peterson tells us why skateboarding boys and girls must be left alone, what terrible fate awaits those who criticize too easily, and why you should always pet a cat when you meet one on the street.

Dr. Peterson journeys broadly, discussing discipline, freedom, adventure and responsibility, distilling the world's wisdom into 12 practical and profound rules for life. 12 Rules for Life shatters the modern commonplaces of science, faith and human nature, while transforming and ennobling the mind and spirit of its readers.

"Don't Tell Me What to Do... Ask Me"
by Cyndy Sheldon

This great book is helpful to men and women alike. It takes the high road about disagreements, teaching advanced discussion concepts in easy to understand language.

Concepts such as creative compromise, the valuing of process over content, and unilateral decision-making can enlighten your relationship and make you both proud to grow in it.

Cyndy Sheldon is a long-time Gestalt Psychotherapist and Trainer. She is also a teacher of Native American wisdom. This book is very helpful to all of your relationships and is highly recommended.




"The ULTIMATE EDGE:
How to Be, Do and Get ANYTHING You Want"
by Tina Thomas, PhD

This book is a one-stop shop for self improvement combining the art and science of over thirty years of Dr. Tina Thomas' experience as a personal change Gestalt therapist. It gives you the tools to the "fire" of your personal problems rather than dealing with all the psychoanalytical smoke.

Issues with work, goal achievement, anxiety, stress, depression, relationships? The Ultimate Edge gives you the edge in life by explaining how your brain creates the mental maps that initially protect you but ultimately can sabotage your life.

You will learn how to change those mental maps so that, as far as your brain is concerned, you have an alternate past, which by default creates an alternate present and future, filled with liberating possibilities. Additionally, you will learn about the seven most misunderstood emotions and how to utilize them to your advantage. Finally, you will learn how to get your RAS in gear.

The Reticular Activating System is a filter in the brain that, once activated, helps you to achieve your goals quickly and dynamically. The Ultimate Edge is a guidebook to more peace, passion and power than you ever imagined!




"That's Not What I Meant! How Conversational Style Makes or Breaks Relationships"
by Deborah Tannen

helps you understand how to find a common language method in which to strengthen all relationships - at work and at home. A classic in the field of interpersonal relations and communication, this book will upgrade the way you interact in conversations.

"Part pop psychology, part sociology and part anthropology, this book by a linguistics professor at Georgetown University focuses on the uncomfortable moments when a conversation inexplicably breaks down, and suggests how such awkwardness can be avoided. Noting that there exist a plethora of books on public speaking, Tannen instead considers "private speaking,'' and particularly the ``metamessages'' we transmitwhat we say, our attitude toward those we speak with, and the specific occasioninvolving such elements as loudness, pitch and intonation. Using scenarios that illustrate communication gaps, Tannen also attempts to show readers how to save their marriages and triumph in job interviews." - Publishers Weekly

"Getting to YES:
Negotiating Agreement Without Giving In"
by Roger Fischer and William Ury

What is your BATNA (Basic Alternative To a Negotiated Agreement)? Do you even have one?

Since its original publication nearly thirty years ago, Getting to Yes has helped millions of people learn better ways to negotiate. One of the leading business texts of the modern era, it is based on the work of the Harvard Negotiation Project, a distinguished group that deals with all levels of negotiation and conflict resolution.

Getting to Yes offers a proven, step-by-step strategy for coming to mutually acceptable agreements in every sort of conflict. Thoroughly updated and revised, it offers readers a straight- forward, universally applicable method for negotiating personal and professional disputes without getting angry-or getting taken.

"Everlasting Optimism: 9 Principles for Success, Happiness and Powerful Relationships"
by Lenny Ravich

"Finally a book about optimism that is hilariously funny. Brilliant and easy to apply practical recipes for a happier life, charmingly written by an educator and humorist sage." - Jack Canfield, Originator of the "Chicken Soup for The Soul" series

Take Lenny's hand (but please don't keep it) as he leads you through his hilarious 81 year journey to everlasting optimism. Learn how to:

Bounce back from adversity - live a life of laughter
Laugh at yourself and stay strong
Identify your emotions for an authentic life
Make your relationships workable and enjoyable
Use humor to adjust creatively to aging
Make a Lemonade Empire from lemons
Laugh at your past, then buy it lunch
Use the "bullfight" method to side-step negativity
Become a Reverse Paranoid ("People are saying GOOD things behind my back!")

"YOU CAN'T SAY THAT TO ME:
STOPPING THE PAIN OF VERBAL ABUSE
- AN 8-STEP PROGRAM"
by Suzette Haden Elgin, PhD

Frequent and repeated use of unanswerable questions, scalding accusations, sarcasm, insinuations, and even icy silence is more than simply unpleasant. It is abusive, destructive, and frequently leads to escalating arguments and physical violence. Suzette Haden Elgin, creator of the "Gentle Art of Verbal Self-Defense," books, has developed a unique and revolutionary way to break the cycle of verbal violence and eliminate it from your life - without ruining your marriage, risking your job, or alienating friends or loved ones. Dr. Elgin shows you how to neutralize verbal attacks and discourage future abuse with:
* An 8-step program that helps you recognize the patterns of verbal abuse
* Specific language techniques that enable you to avoid escalating arguments and break the cycle of abuse using skills you already possess
* Questionnaires and diaries that help you analyze abusive situations, evaluate your responses to them, and track your progress

In this book Dr. Elgin proves that verbal abuse is not caused by human nature, but by language. She helps you discover that you are an expert in your own language, already highly qualified to solve this problem for yourself, quickly and forever.





P. O. Box 1333
New Orleans, LA 70004-1333
USA