"Hi. My name is Jeff. I'm honored to be your Argument Fixer Guide. I can coach you online or by phone!"
"I have many years of experience in coaching people how to achieve better Argument Management. I invented this app to help people trapped in conflict learn together how to minimize stress so they can reduce panic; and to instead collaborate fairly in resolving their disagreements.

Schedule your personal 1-to-1 session to be held by phone, Zoom or Skype, Limited spots available - act now! Sometimes all you need is one session and your arguments become resolvable.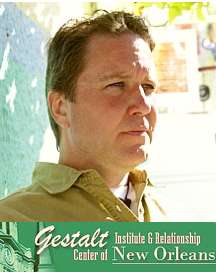 Jeff Teachworth, CGP, CPRC, NLP, Certified Life Coach
Assistant Director of the Gestalt Institute and Relationship Center of New Orleans
Certified Gestalt Practitioner in Gestalt Therapy (1987) - Graduate of Gestalt Institute of New Orleans. Certified NLP Practitioner (1989) - Society of NLP. Certified Life Coach - Transformational Life Coaching Center (2003). Certified Psychogenetics Relationship Counselor and Trainer (2011) - Gestalt Institute. Specializing in Relationship Counseling, Family Coaching, Anger Management, Individual Gestalt and Transformational Life Coaching.
"I caringly and respectfully facilitate rediscovery of lost 'parts' of yourself. Once you recover these 'expressions' you can update them as needed, and own them as additional tools to more elegantly and satisfyingly deal with others. Our work is familiar, yet transformational, helping you evolve into a more competent and fulfilled person. Look forward to adventure, and sometimes even a touch of humor while on your way to a better YOU."
"I provide life coaching for individuals about their relationships, private lives or careers. I use a dynamic style of multiple paradigms, including Gestalt Therapy, Communications Theory, Family Systems, NLP, Rational Emotive and Redecision Therapy to empower my clients. Teaching Emotional Management is a specialty of mine. As one client described the experience, "It's like gaining more tools in your personal tool box."
Skilled in Gestalt Therapy, Relationship Counseling, Family Systems, Anger Management and Mediation, Dream Work, Spiritual Integration issues and Transformational Life Coaching, with training experience in Adolescent and Group Counseling... I often utilize a whiteboard during my work to creatively illustrate the internal dynamics of the client's gestalt process, as well as connecting through a variety of life coaching styles.
Further info please contact: Jeff@ArgumentFixer.com